Being a good southern girl, I have always tried to live by the unspoken laws of Southern Wisdom. One of those such laws is "hide your crazy". I know that for most, it is just a lyric in a Miranda Lambert song, but to those of us raised in the south, it is Southern Gospel.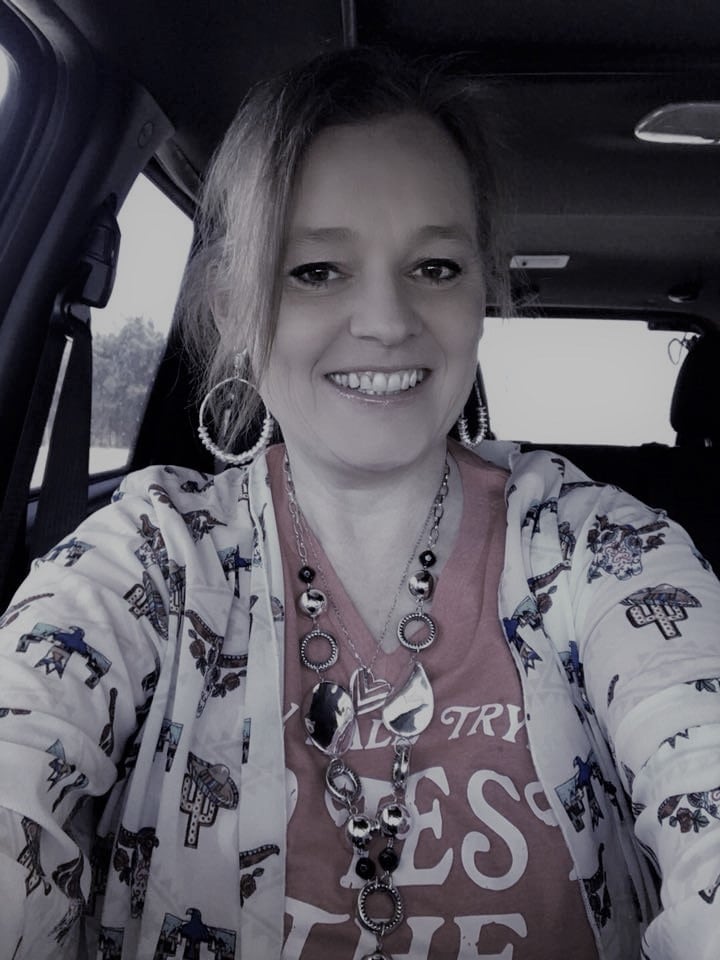 My style - kimono, graphic tee, ponytail, and a smile.
 My crazy has always been my passion to create art with cows, pigs, or anything agriculture related. The more cartoonish the better. But I knew that drawing cartoon cows would get me nowhere, so I followed my mantra of hide your crazy and got a degree in Agriculture Science.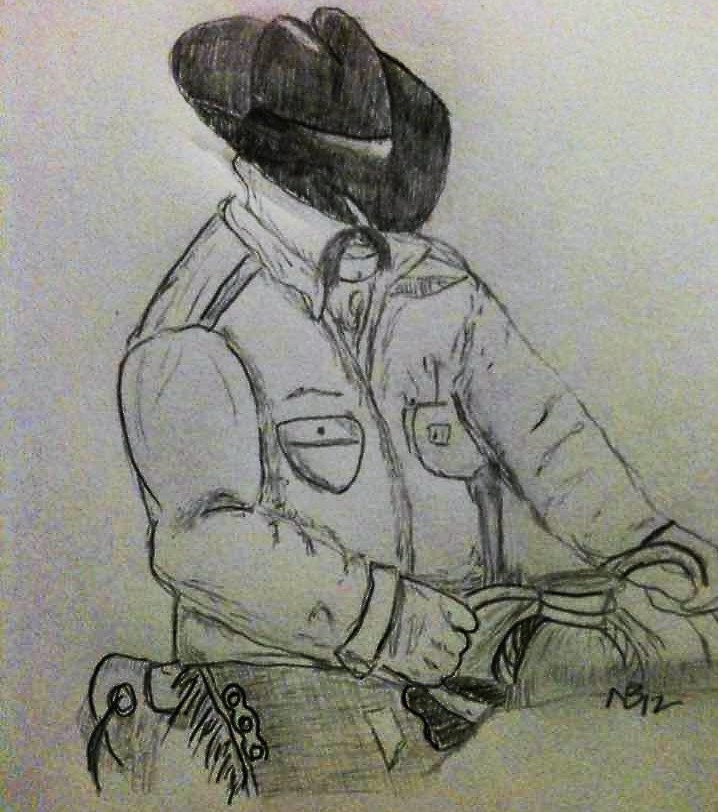 Sketch of my husband.  He hated this!
I have always known that my calling was teaching. I taught every grade from 4th – high school agriculture science/FFA. I even did a brief stint teaching in a Texas prison. The latter being a full blown crazy! In 2015, I developed a medical condition which sidelined my teaching career and I medically retired. 
I have never been one to stay idle for long, so I started hanging out and helping my friend that owns a flower shop. In my spare time I painted abstract cows and pigs, sketched everything on our place, and even sold a few paintings and drawings.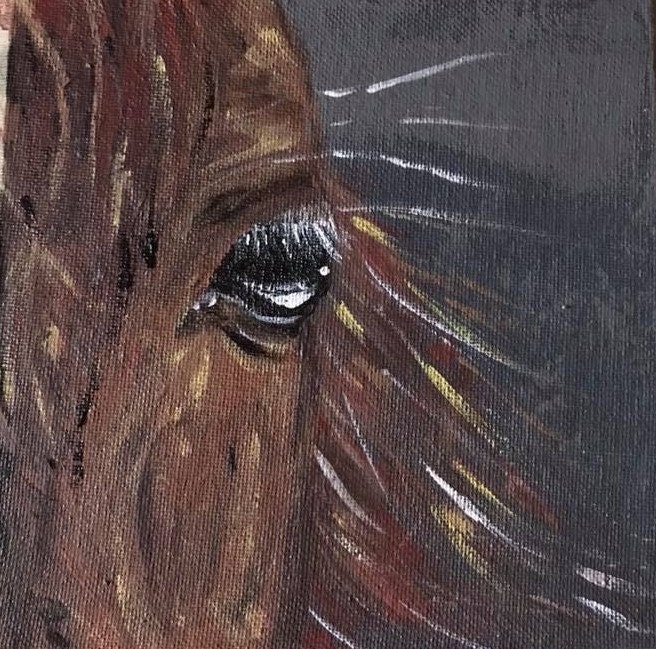 A 4X4 painting of a pony.
Then the graphic tee boom began. My go to fashion on any given day is a graphic tee, kimono, and converse with glitter laces. The only thing about the graphic tees I was buying, they didn't reflect me and exhibit my kind of crazy. 
I bought a Cricut, made a shirt for my mother-in-law, posted it on Facebook, and Heifers and Halos was born. I started designing any and everything ag and cow related. I loved it until it completely consumed my every waking hour, every room in my house, my sanity, and my wienie dog started eating vinyl.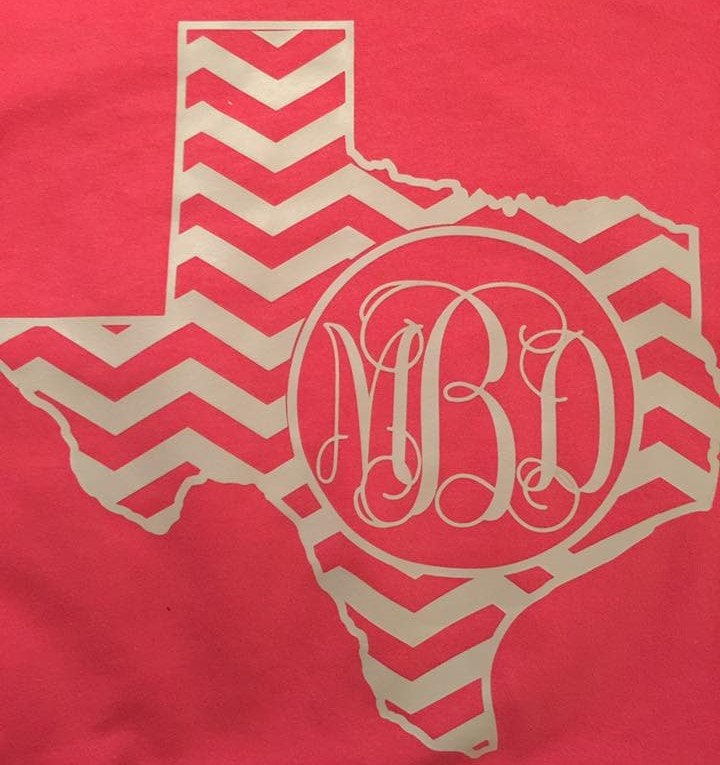 My first shirt design and kickoff to Heifers and Halos
I still wanted to see my designs on shirts and opened an ETSY shop in 2017. I saw that there was a niche for my kind of designs. I just played around with it at first and then in May 2017, I was listening to Ghetto Gospel by 2pac, and the bandana heifer cow was born. The rest has turned into a crazy bandana history. Someone recently asked me to do a skunk! (I'm working on it)!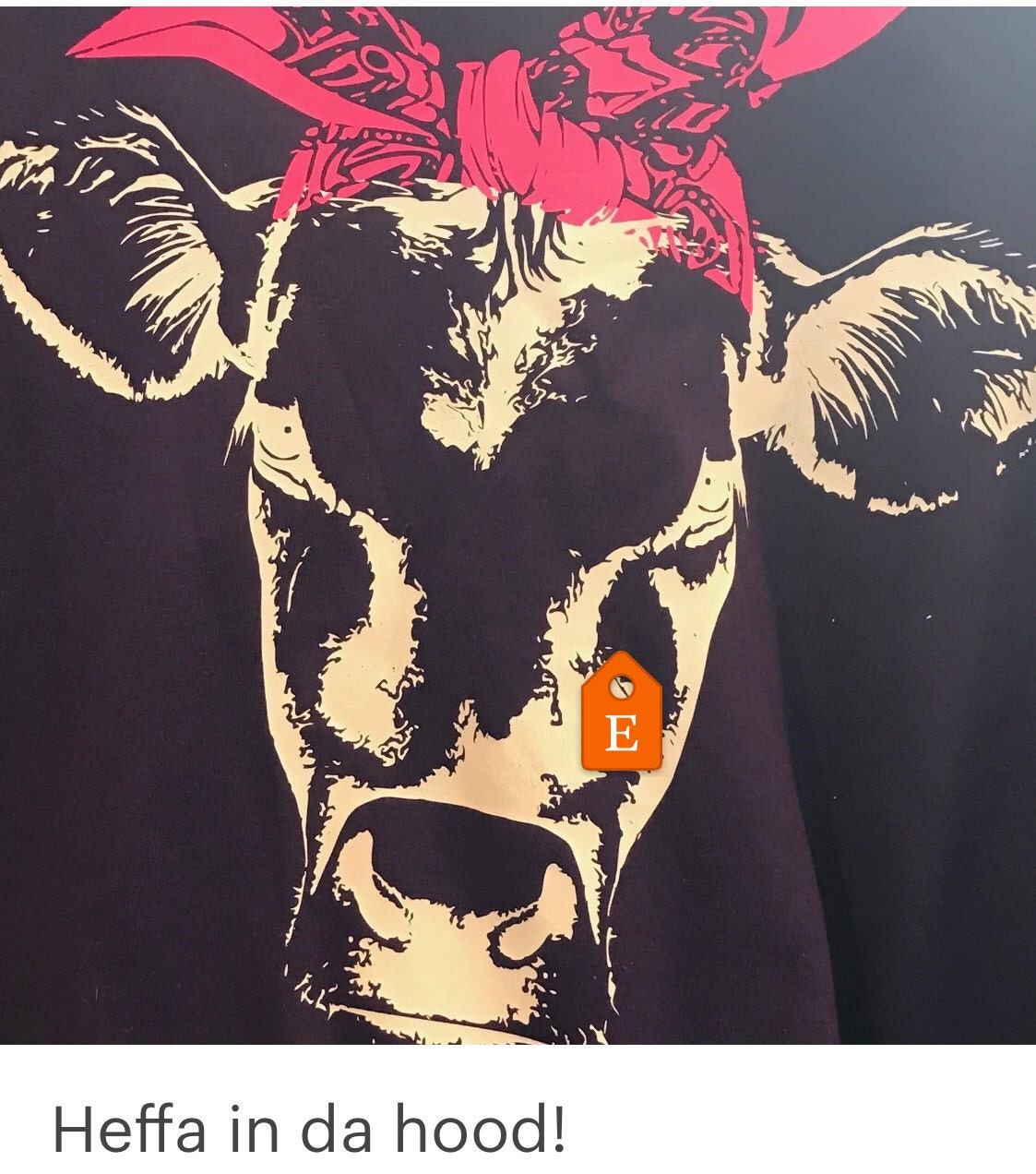 -side note: I have sold more digital cattle this year than actual live cattle this year! It blows my mind! 
My process is pretty simple now. Gone is the Southern Wisdom of hiding my crazy. I feel like I am waving it around like I just don't care! If it is a graphic that I would wear on a shirt, then you can bet it will be in my shop. 'Cause some of y'all are crazy heifers like me! 
Some new things I am working on…
fonts! I have already posted the branded font in svg format. My new ones will be installable and can be used via keyboard. 
Sublimation – I am working on creating some truly unique designs that are guaranteed to blow your minds! It has just been a little difficult to go from vinyl to multi-colored prints. 
Heifers and Halos too – is coming soon. My son is working on his own t-shirt designs and he is by far more talented that I ever could be.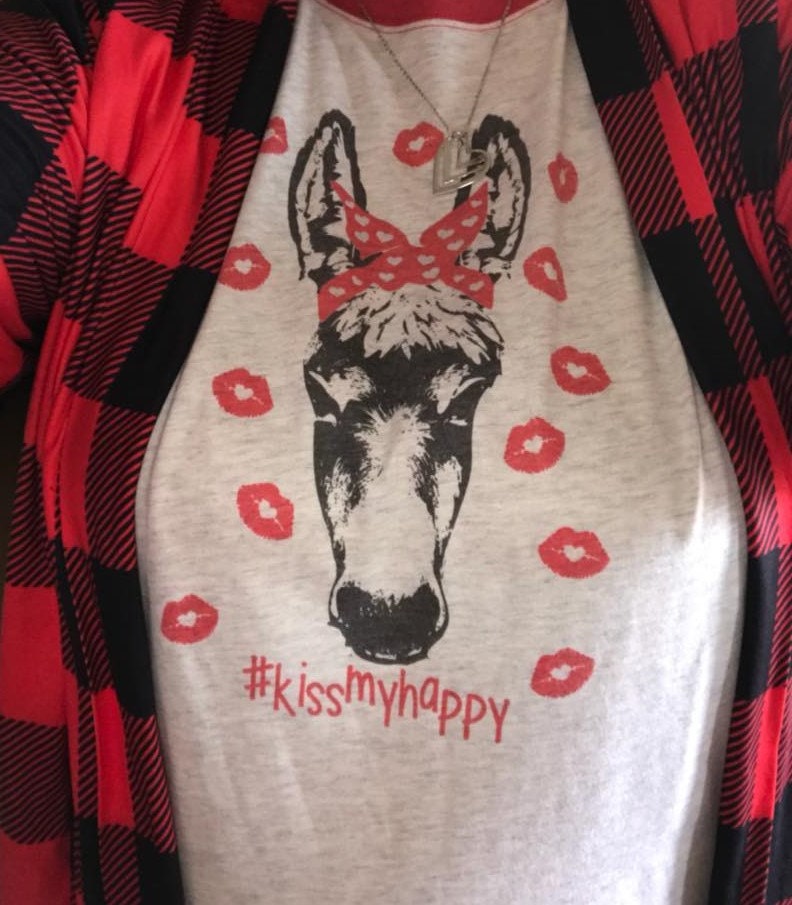 A sublimated design I came up with for Valentines. Personalitee made!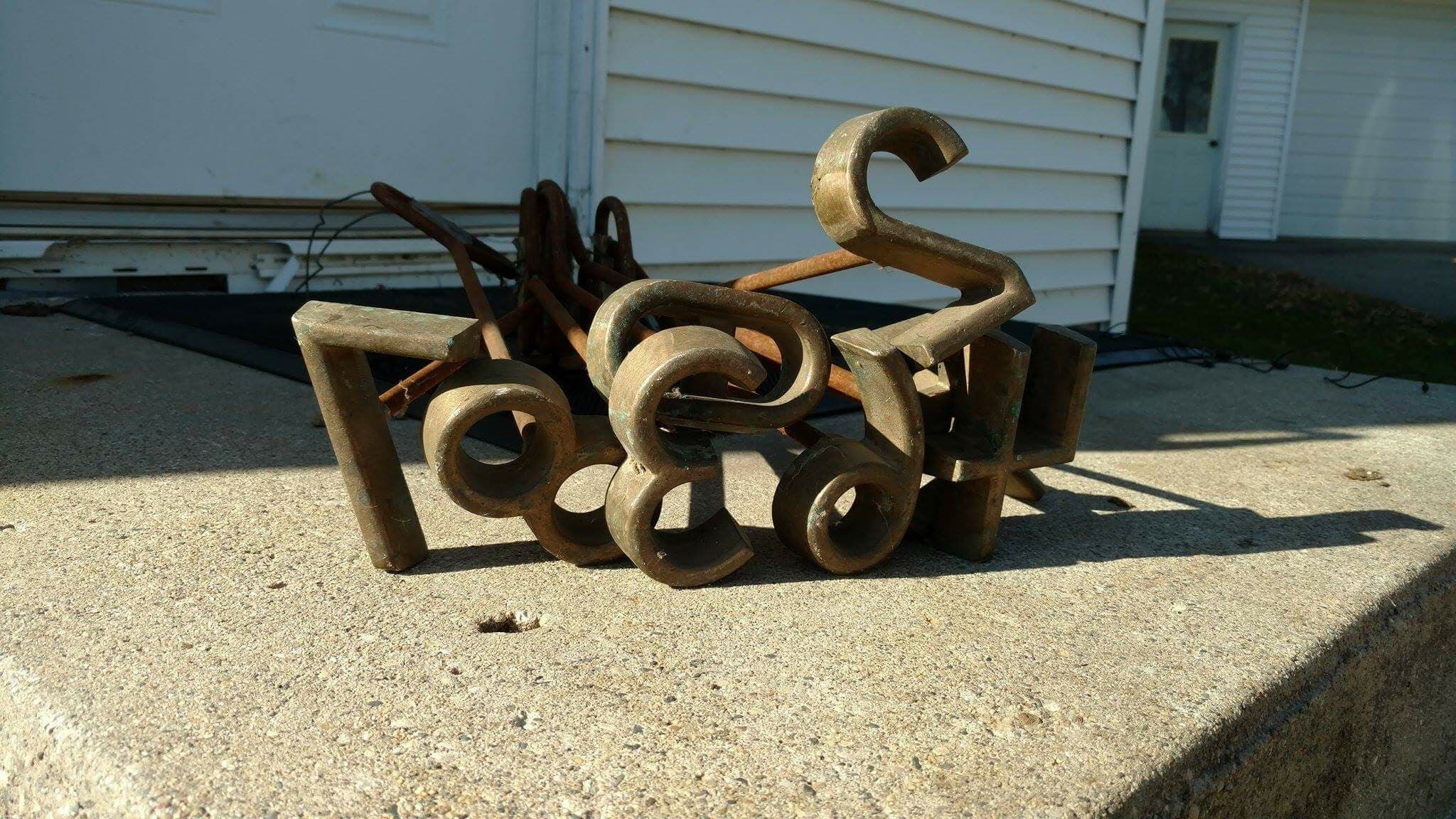 Inspiration for the Branded Font - Photo courtesy of Matt Bruner
  I look forward to hearing from you all! Any feedback you may have is greatly appreciated. If you have an idea that you want me to do, let me know.   
Have a good one!   
Nita 
Heifers and Halos