Good ol' Spell Check
Once upon a time, a long time ago, I lived in a land where I knew how to spell without the assistance or dependence on spell check. Then, l got lazy and dependent on a device to check my spelling. As time went on, sometimes my spell check would get a mind of its own and totally change the entire word, even to curse words! Most of the time I never noticed or if I did, it didn't really matter because the texts or emails were to my friends. No big deal, right? That is until I started an online business and began advertising. My new-fangled approach to advertisement was really fun and super-fast! One day, while checking my Instagram account, I realized that my entire profile made me sound like a perverted farm design peddler. Now before you go looking it up, I will share with you what it said.   
Nita Bankston  @heifers_and_halos #heifersandhalos raunchy, punchy designs for the discerning country girls! Check out my etsy store heifersandhalostx! Jesus loves U   

Ranchy not Raunchy and Jesus Loves U
It's not like it wasn't bad enough to have the word "ranchy" changed to "raunchy", but I added Jesus loves U to the end. So not only do people think I am a perverted farm design peddler, they think I am twisted because I brought Jesus into the raunchy, instead of ranchy profile! (I also hated the fact that I had to use the letter U instead of the word "you"; that's just a whole other long blog!)
Lesson Learned?   
I learned valuable lessons during this debacle. It explains why half-dressed people were messaging me to "hit them up" among other embarrassing things. No one must read my profile, especially my friends, or surely, they would have asked me why I was selling raunchy stuff with Jesus' name attached. And lastly, it is even more important than ever to read what you are putting out online! I was so embarrassed!  
What do Ranchy and Punchy even mean??
A couple of you have asked what punchy and ranchy mean. This is my intent at what they mean. Punchy – sharp, on the ball, with it, somewhat rebellious. That pony sure was punchy today running barrels.  Ranchy – anything having to do with or related to ranching or a ranch. I would love to have one of those ranchy cowhide rugs in my office.   I have heard some folks use punchy in a negative way but I don't think they knew what they were talking about to begin with. 😊   
Keep'n it Punchy
To help me keep myself "punchy", I have enlisted the help of my friend Esmerelda, owner of JDN Designs on Etsy, www.etsy.com/shop/JDNDesign to keep me organized and help with Silhouette Cameo questions. I call her the Silhouette Guru, so if you have questions, ask away! Also, go check out her shop! Cute stuff!!!   
Thank you for tolerating me as your RANCHY farm design peddler! I love it and I love hearing from y'all too! I have met so many interesting people through this business. I have been blessed beyond measure!   
God Bless, Nita 
Heifers and Halos 
Email: heifersandhalos@gmail.com 
Website: www.heifersandhalos.com 
Facebook: www.facebook.com/heifersandhalossvg 
Twitter handle: @heifers_and_halos 
Youtube: Heifers and Halos – several good videos to help you out! Tips and how-tos.     
This Week's Coupon!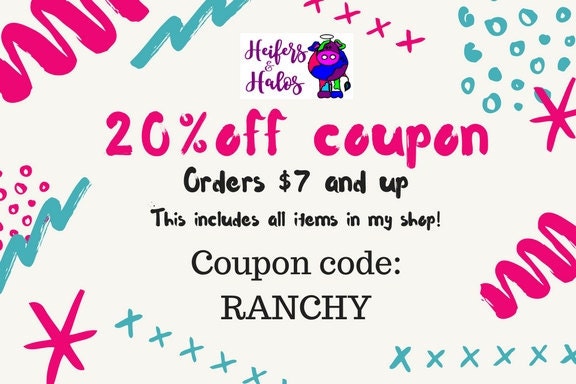 Share your spell check experience and I will email you an svg of your choice!  Files must be $4 or less for the free svg.  Be sure and email me your choice!
Thank you & have a good one!